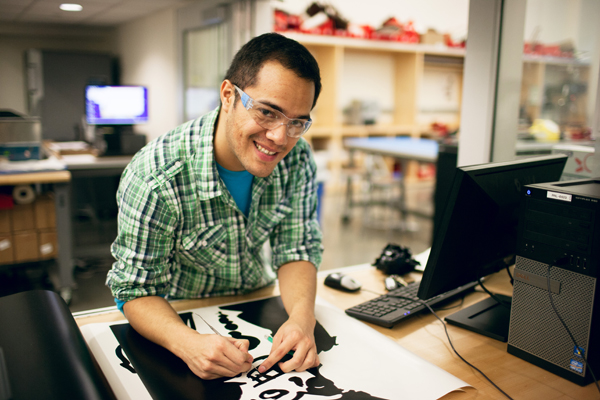 PHOTO BY YUTO WATANABE
I'm César, a 2nd year PhD student in the Electrical Engineering and Computer Sciences Department at UC Berkeley and you have stumbled upon the site where I post my latest projects and experiments. I am currently advised by computer-scientist-artist Eric Paulos and am part of the Tactical Hybrid Ecologies Group. My current research projects explore digital fabrication technologies as exciting, critical new media. You can find me at the Berkeley Center for New Media in Sutardja Dai Hall.
I recently received my BS in Computer Science and BA in Art Practice from Stanford University where I conducted research with the Stanford HCI Group and was advised by Scott Klemmer and Ranjitha Kumar in the CS Department, and Gail Wight in the Art and Art History Department.
I am also the coordinator for the weekly Berkeley Institute of Design Seminar Series. Email me if you'd like to present.
So, let's talk media. Send me a note at cearto (at) berkeley (dot) edu!
News & Travel
Presenting Fl.UI.s Note at TEI'15
Stanford, CA
January 15-19
SWARM Lab Retreat
Napa Valley, CA
January 14
Excited to be teaching the CS Scholars Seminar! #diversityincs
Berkeley, CA
Spring 2015
Selected as a ARC Fellow
Berkeley, CA
January 12
SV'ing at the Designing Interactive Systems (DIS) Conference
Vancouver, BC, Canada
June 22-26
Design Automation Conference
San Franscisco, CA
June 3-5
Demoing FlUIs @Solid 2014
Software/Hardware Everywhere
San Franscisco, CA
May 21-22, 2014
Robots and New Media Symposium
CITRIS @ UC Berkeley
Apr 4, 2014
Awarded the NSF GRFP ! :)
Apr 1, 2014
Google DevArt Meetup
San Francisco, CA
Mar 10, 2014
BiD Seminar - Lightning Talk
Berkeley, CA
Mar 4, 2014
EECS Annual Research Symposium (UCB)
Berkeley, CA
Feb 13, 2014
BSN Deep Dive
Bodega Bay, CA
Feb 7-8, 2014
Joined the Designated Emphasis in New Media program
BCNM
Nov 20, 2013
Codame Art and Technology Festival
San Francisco, CA
Nov 2, 2013
CITRIS Poster Presentation
Berkeley, CA
Oct 2, 2013
GEM Conference 2013
San Juan, Puerto Rico
Aug 7 - Aug 9, 2013
Copyright © 2009-2014 Cesar Armando Torres